Public lecture by Physics Nobel Laureate Donna Strickland on February 8 at TU Dresden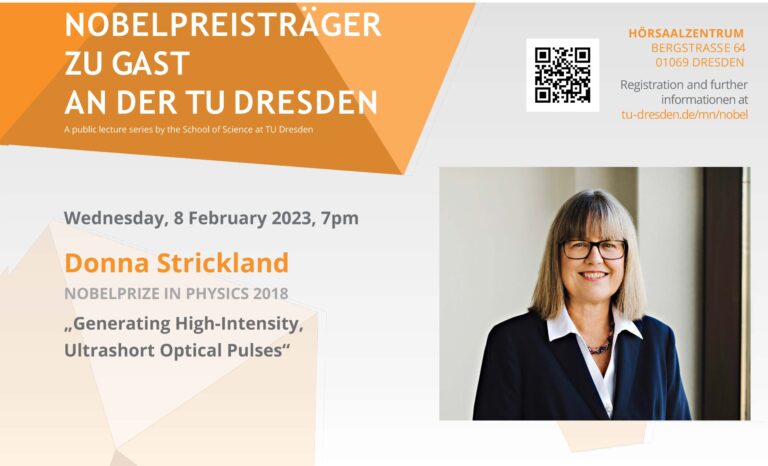 © TU Dresden, Foto: www.oneforthewall.ca
In 2018, Donna Strickland became the third woman ever to be honored with the Nobel Prize in Physics. On February 8, 2023, the Canadian will be a guest at Technische Universität Dresden and will give a public lecture about her research in the field of laser physics and her path to the Nobel Prize.
When the Nobel Prize in Physics was awarded in 2018, one name went viral on social media: Donna Strickland. The reason for this was not exclusively her scientific achievement, but in particular the fact that there was no Wikipedia entry on the then 59-year-old physicist at the time of the announcement. The portal was heavily criticized for this. It subsequently took less than two hours before an entry on Donna Strickland could be found on the platform.
So, who is Donna Strickland and what was she awarded the Nobel Prize for? The Nobel Prize Committee's citation states "for groundbreaking inventions in the field of laser physics" which Donna Strickland achieved during her PhD together with her supervisor Gérard Mourou. In 1985, at the University of Rochester, they jointly developed a method for generating ultrashort laser pulses: chirped pulse amplification (CPA). The method is now used millions of times all over the world – for example in laser eye surgery. Donna Strickland published the first research article in her career on this method, earning the most prestigious of the world's science prizes. She shares the Nobel Prize with Gérard Mourou and Arthur Ashkin.
Since 1997, Donna Strickland has worked at the University of Waterloo in Canada, where her ultrafast laser group develops high-intensity laser systems for nonlinear optics investigations. In addition to the Nobel Prize, the now 63-year-old has been honored with numerous other awards and memberships, including membership in the Royal Society of Canada and the Royal Society. She is an international member of the U.S. National Academy of Science and the Pontifical Academy of Sciences. In addition, Strickland was named a Companion of the Order of Canada, the highest order of the Order of Canada, Canada's highest award for civilians.
On Wednesday, February 8, 2023, Donna Strickland will give a public lecture at the Technische Universität Dresden Audimax titled "Generating High-Intensity Ultrashort Optical Pulses." There she will talk about her time as a PhD student at the University of Rochester and about her research that led her to the Nobel Prize.
The lecture will be given in English. It will begin at 7 p.m. in the Lecture Hall Center of the Technische Universität Dresden (Hörsaalzentrum, Bergstraße 64, 01069 Dresden). Admission is free. Further information and registration at: tud.de/mn/nobel
Media inquiries:
Nicole Gierig
Public Relations Advisor
School of Science
TU Dresden
Tel.: 0351 463-39504
nicole.gierig@tu-dresden.de
Written and edited by Nicole Gierig, TU Dresden