Materials Research Network
Sign of a special cooperation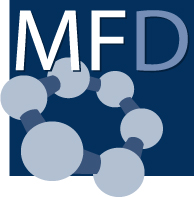 Founded in 1993, the Materials Research Network Dresden e. V. (MFD) is a non-profit association of both university and extramural research institutions active in the fields of materials technology and materials science. More than 3700 researchers and technicians jointly cover the entire range of relevant materials from metals and alloys, polymers, ceramics to bio materials and composite materials. Research on semiconductor, quantum and superconducting materials is a special focus in the field of functional materials.
The MFD unites institutes of all extramural research communities – from the Max Planck Society via the Leibniz and Helmholtz Associations to the Fraunhofer Society – and Technische Universität Dresden. The institutes have an annual budget of well over 300 million euros.
For research and industry partners, the MFD offers a central access point and the right contacts for the diversity of Dresden-based materials research. The MFD bundles the competences of the institutes, initiates cooperation and transfer projects and conducts comprehensive networking and public relations work. In close cooperation with the Scientific Area Committee 3, the MFD is committed to representing the strengths of the location for the public and young researchers both nationally and internationally. The MFD has been DRESDEN-concept's cooperation partner since 2016.