The CityTree: A fresh breeze for Dresden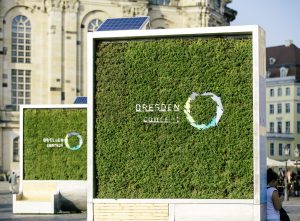 Green City Solutions addresses the global problem of air pollution by combining a special, vertical installed moos culture, with Internet-of-Things (IoT) technology. The patented product, called the "CityTree", is a 4meter-high, 3m-wide and 60cm-deep, freestanding unit. It combines specific moss cultures with vascular plant that eat particulate matter (PM), nitrogen dioxide and ozone – offsetting 240t of CO2e/year in total. Annually the plant filter compensates pollution from up to 417 cars and can be adapted to any environment. The construction contains sensors collecting environmental and climatic data, to regulate and control the unit and ensure that the plants survive. Thus, the CityTree has the same effect as 275 urban trees, but requires 99% less space. Thanks to solar panels and rain water retention systems, the unit requires only a few hours of maintenance per year. By using technologies like WiFi, iBeacon, NFC and digital screens, CityTrees can also transmit digital and visual information.
From July until September 2016 the CityTrees promoted the scientific exhibition taking place on the Neumarkt in Dresden and was welcoming residents and visitors from afar.