Yana Vaynzof appointed as new director at IFW Dresden
Yana Vaynzof appointed as new director at IFW Dresden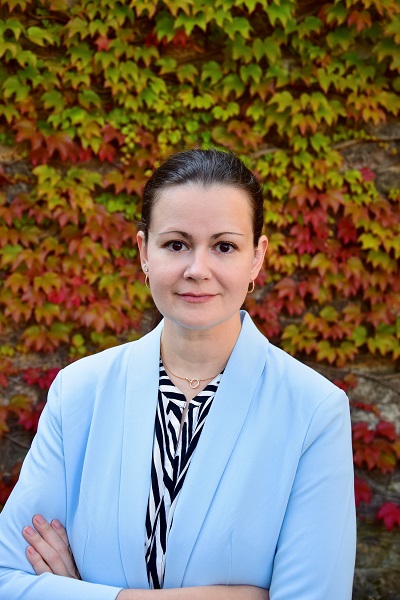 © privat
Prof. Dr. Yana Vaynzof has become the new director of the IFW Institute for Emerging Electronic Technologies (formerly the Institute for Integrative Nanosciences) on Jan. 1, 2023. The multiple award-winning scientist was simultaneously appointed as Chair for Emerging Electronic Technologies at the Faculty of Electrical and Computer Engineering at TU Dresden.
Prof. Yana Vaynzof's research focuses on the study of emerging semiconductor materials, ranging from the fundamental understanding – and control – of their properties to their integration into novel optoelectronic devices. This application-oriented materials research is highly interdisciplinary spanning chemistry, material science, physics and electrical engineering. In her research, Prof. Vaynzof employs a broad range of advanced microscopic and spectroscopic methods, a combination that provides meaningful insights on the nanoscale into the material chemical-physics and light-matter interactions in these novel semiconductor materials. Importantly, her research goes beyond the application of existing methods, but also focuses on the development of new experimental methodologies.
With her applied research interests, for example the further development of materials for modern, sustainable photovoltaic devices, she precisely suits the requirements of current times. Her research objectives also fit perfectly into the research program of the Leibniz Institute for Solid State and Materials Research Dresden (IFW Dresden). With a newly structured research program, the IFW aims to highlight the importance of new materials for sustainable climate-friendly innovations.
"With Yana Vaynzof, we are gaining a truly outstanding scientist who will not only underscore our research program but also set new trendsetting impulses," Prof. Dr. Bernd Büchner, Scientific Director of IFW Dresden, is pleased to announce. "In our local network Dresden-concept we could already get to know her as an incredibly active, convincing and professionally very accomplished colleague and welcome her to our institute."
Yana Vaynzof has become the head of the IFW Institute for Emerging Electronic Technologies (formerly the Institute for Integrative Nanosciences) at IFW Dresden since the beginning of 2023, after the previous institute director left IFW Dresden in the fall of 2021. Her institute consists of approximately 70 employees who work on topics that range from photonics and flexible electronics to nano-robotics. As the new director Yana Vaynzof wants to add an additional focus on the field of emerging photovoltaics: "Emerging photovoltaic technologies are highly promising for addressing the ever-rising global energy demand, yet their broad industrial application is hindered by several challenges, such as stability, scalability, sustainability and reproducibility. I am very much looking forward to tackling these important scientific challenges through a novel collaborative research program at the institute for Emerging Electronic Technologies at IFW."
Regarding the new appointment of Yana Vaynzof, Juliane Schmidt, Administrative Director of IFW Dresden, says: "I am particularly pleased to welcome with Ms. Yana Vaynzof for the first time a woman as director of one of the five IFW institutes. With this, we are fulfilling two urgent recommendations of the Leibniz Senate at the same time: to fill the vacant directorship quickly and to finally appoint a female scientist at this hierarchical level as well."
Prof. Vaynzof herself is very actively engaged in promoting gender equality and diversity in the STEM fields and through her successful combination of an outstanding academic career and family life serves as a role model to future generations of female scientists. In addition to pursuing her own scientific research, she is also committed to young scientists and supervises numerous final theses and doctoral dissertations. She is highly active in the scientific community, frequently organizing conferences and workshops for fellow scientists and serving as an editor in a number of journals.
The simultaneous appointment of Yana Vaynzof as a new professor at the Faculty of Electrical and Computer Engineering adds another faculty to IFW's already very close cooperation with TU Dresden. This will give a new impulse to large joint cooperation projects, from which not only IFW, but also the entire Dresden research location will benefit.
About Yana Vaynzof
Prof. Dr. Yana Vaynzof graduated from the Technion (Haifa, Israel) in 2006 with a bachelor's degree in Electrical Engineering and from Princeton University (USA) in 2008 with a master's degree in the same subject. She received her PhD in Physics from the University of Cambridge (UK) in 2011 with an interdisciplinary thesis on optical and electronic properties of materials and devices in organic and hybrid organic-inorganic electronics. During her PhD studies, she was a visiting scholar at the National University of Singapore. Until the end of 2013, Yana Vaynzof was a postdoctoral researcher in Cambridge and then moved to the Kirchhoff Institute for Physics and the Centre for Advanced Materials at Heidelberg University, where she was appointed Junior Professor for Physical Principles of Organic Electronics. In January 2019, Prof. Vaynzof became an associate professor (W2) in Organic Electronics at Heidelberg University. Since October 2019, she held the professorship (W2) for Emerging Electronic Technologies at the TU Dresden. This professorship was established within the Center for Advancing Electronics Dresden (cfaed) and jointly filled with the Faculty of Physics, Institute of Applied Physics. Ms. Vaynzof has been awarded several fellowships and prizes, most notably an ERC Starting Grant for her ENERGYMAPS project in 2017, a Fulbright-Cottrell Award in 2018, and her appointment as a Fellow of the Royal Society of Chemistry (UK) in 2021. Prof. Vaynzof has published over 150 articles in peer reviewed journals. She is an Associate Editor of the prestigious journals Journal of Materials Chemistry C and Materials Advances.
Scientific Contact:
Prof. Dr. Yana Vaynzof
y.vaynzof[at]ifw-dresden.de
+49 (0)351 4659 800
Media Contact:
Patricia Bäuchler
p.baeuchler[at]ifw-dresden.de
+49 (0)351 4659 249