Veranstaltung am

06.02.2022
Uhrzeit von:

18:00 Uhr -

bis:

20:00 Uhr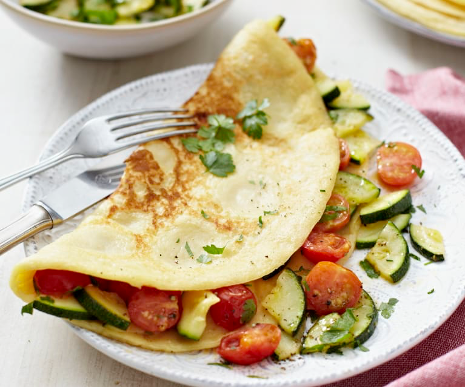 ©cookidoo.de
Cooking alone can get dull and stodgy at times, but thanks to video call opportunities like Zoom, we can all cook together and exchange about different (native) dishes and co.
If you enjoy having company during cooking, while having the chance to create your own individual culinary masterpiece then our virtual cooking night is exactly the right event for you. We thought about making so called "Pfannkuchen" or "Eierkuchen" together, since it is an original German dish but still can be modified to each and everyone's individual taste. In the following you can find the ground recipe (there is also a vegan version) and the extras you can personally add to your own taste. If you want to participate, make sure to get the essential ingredients prior to the event.
In the following you will find the recipe we are going to use:
4 portions:
3 eggs
450 ml milk
300 ml sparkling water
400 g flour
1 pinch of salt
Oil for the pan
Vegan option for 4 portions:
400 g flour
1 teaspoon of baking powder
Optional toppings and extras:
Cheese (vegan cheese)
Feta cheese
Cut up vegetables like zucchini, tomatoes, eggplants, mushrooms
Cubes of bacon
Ham
Spinach
Sweet optional toppings and extras:
Applesauce
Jam
All kinds of fruits (apples, berries, bananas…)
Chocolate creams
Whipped cream
Powdered sugar
Honey (or sirup)
Cinnamon (+sugar)
Chopped up nuts (almonds…)
This event has been cancelled!
Registration
We're sorry, but all tickets sales have ended because the event is expired.