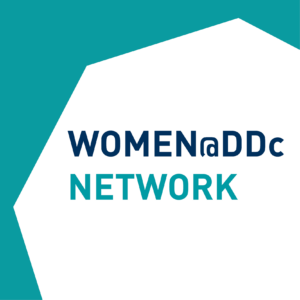 Das Women@DDc Netzwerk ist 2022 aus einer gemeinsamen Initiative des Sachgebiets 9.3 Diversity Managements der TU Dresden, des Barkhausen Instituts und der Geschäftsstelle von DRESDEN-concept entstanden, um Wissenschaftlerinnen aller Statusgruppen und Wissenschaftsmanagerinnen innerhalb des Forschungsverbunds DRESDEN-concept besser zu vernetzen und sichtbarer zu machen.
Wissenschaftlerinnen und Wissenschaftsmanagerinnen, die am Netzwerk interessiert sind, können sich über die Plattform LinkedIn anmelden und erhalten dort alle Informationen zu Veranstaltungen und Aktivitäten im Netzwerk.
Netzwerkveranstaltungen 2023
Die folgende Veranstaltung wird auf Englisch angekündigt, da die Veranstaltung auf Englisch stattfinden wird:
"Getting Women@DDc future ready" – Workshop for Women@DDc
Date: Friday, January 13, 2023, 9 a.m. to 1 p.m.

Location: COSMO Science Forum at Kulturpalast Dresden
Moderators: Maike Heinrich, Jenny Pick and Katharina Schmitt
Let's start the new year together and travel into the future of women's advancement and support. On Friday, January 13, 2023, we will explore in small groups how women can and would like to promote and support each other in the future. We will use the method of Future Modeling according to Knoweaux (www.futuremodeling.com). Following the future modeling canvas, we will look at future quos and co-create desirable and applied futures. Let's develop scenarios and prototype ideas together while addressing questions like
How can we support and empower each other?
How will we facilitate personal growth?
How will we create a nourishing and sustainable environment in science in which we can thrive?
How can both scientists and science supporting personnel profit from one and the same network?
Get to know a new method for strategic and applied future development and learn how to define a futuristic, visionary mindset for yourself and a long-term vision for your organization. Provide direction and orientation, thus making your team future ready, and unlock their full potential and engagement by defining a long-term perspective and training relevant capabilities.
Workshop language: English
This workshop offer is free and open to members from the Women@DDc Network. Places are limited to 30.
Please register via LinkedIn registration by Jan. 9, 2023.