We will support you in our best ability in your search for appropriate accommodation. However, due to the high effort involved in finding suitable places for all our clients, please understand that our capacity is also limited. Be aware, we provide information that help you finding an apartment only. You have to choose and apply for the apartments yourself.
Please note that our focus lies on accommodating international researchers, who are planning to stay in Dresden for more than 3 months. If you will be in Dresden for a short stay of up to 3 months, kindly ask your Dresden host and their office staff for assistance with booking an accommodation. Note that most guest houses, hotels etc. require personal bookings.
---
As an international researcher you can request our assistance. Therefore, please ask your host institution to send us an
After your host has send us the assignment, please fill in or send us via e-mail:
so that we can assist you in the best way possible.
Living concepts you will find in Germany are:
Apartments for one person/couple/family:
– rent a whole apartment for usually at least a year
– arrange furniture, electricity and internet yourself
– in some cases a kitchen is included, sometimes you can buy furniture from the previous tenant
Flat shares:
– rent a room and share bathroom/kitchen/community room with your roommates for usually an undetermined time
– electricity and internet are arraged by the tenants
– furniture is a matter of negotiation – sometimes it can be bought from the previous tenant
Dormitories:
– rent an apartment or a room with shared bathroom/kitchen/community room for usually at least half a year
– electricity and internet are included in your rent
– are fully furnished
Subletting:
– rent a room or an apartment for usually an undetermined time
– electricity and internet are included in your rent
– comes fully furnished
---
Features and furniture:
Most apartments come with a seller/attic/box room.
Apartments include a floor, sometimes a kitchen and are usually unfurnished. (see exceptions above)
Electricity and internet are usually to be arranged by the tenants. (see exceptions above)
Some accommodations offer a parking spot/garden.
Most accommodations include cleaning staff/caretaker for the shared hallway/garden/maintenance.
If you have found an apartment online you would like to visit and potentially rent, you need to contact the responsible landlady/lord or real estate agency. You will either find their contact information or a contact form ("Anbieter kontaktieren"). Since not everybody is speaking English, you can send your message once in English and once translated to German (google translator) to increase your chances. If you speak conversational German do not hesitate to call directly. The more contacts you make the higher are your chances of getting an apartment.
Please be aware of the difference between Kaltmiete and Warmmiete in your search. (See Accommodation related terms above)
If you should feel discriminated by any landladies/lords or real estate agencies during your search, please contact us.
---
WG-Gesucht – Guide
WG-gesucht is a very popular platform for apartment search in Germany where you can look for rooms in shared apartments (none shared apartments are also available). There are also rooms, which are fully furnished and just available for a specific period (sublet). In general, the aim for a shared apartment is to build a nice living atmosphere with your flat mates and to split the rent. As the manner for this process is differently than in other countries please read the following paragraphs closely.
How it works: First, you write an application via the website and then they might give you a date for a visitation. After the visitation, they tell you if they like you to move in or not.
How to write an application:
On top of the website you can choose filters, e.g. where you are searching and up to what price you can pay. Once you found some shared apartment, there is a long text in German you can translate via internet. Be aware, usually you are not the only person who wants the room. In fact, quite the opposite is the case. Often dozens of people apply for the same room. Therefore, you want to write an application that stands out! In Germany, the apartment itself is not as important as the people you live with – explain why it is nice to live with you. What are you interested in? What activities do you do in your spare time? Do you do sports? How would you imagine a good living in a shared apartment? In addition, you should involve some facts from the offer, so the people from the offer are sure you have read it and you do not write the same application to everyone. That is why you should read and understand the offer carefully. In Germany, living in a shared apartment is sometimes compared to living in a family.
We are more than happy to have a look at your application if needed!
Visitation:
The visitation is where the decision is made. Now just a couple applicants are left. Visitation takes usually from 30min up to 1h. In that time, you have a look at the apartment and of course the room of interest. Most of the time you get to know your flat mates a little better though. Often you sit in the kitchen, enjoy a cold or hot beverage together, and see if you have a good connection. Before you go out it is helpful for everybody to be honest and tell them if you are actually interested in living there or not. After a couple of days, the people from the apartment contact you and tell you if you can move in or not.
Before the viewing appointment:
Your chances of getting an apartment are higher if you are prepared and either bring important documents to the viewing or have them ready to send as soon as possible in case you would like to rent the apartment. Therefore, ask the responsible contact person what he/she would prefer and what documents he/she needs from you.
Read here a checklist of documents you most likely need for applying:
Proof of income/Paychecks from the last 3 months

Mieterselbstauskunft

Credit rating information
Certificate of no rent dept in your former contract
---
During the viewing appointment:
You want to make you own little checklist about important things for you. We would suggest adding the following:
general state of the apartment (please note that every issue – even scratches on the floor – needs to be protocolled before you move during the Wohnungsübergabe, otherwise you might end up paying for it)
availability of seller/attic/parking spot
Is there any mold?
Are the windows and doors tight? Are the windows soundproof?
What are the experiences with neighbors?
Is there cleaning staff for the shared spaces like the hallway?
Do you have to pay a deposit or a cooperative share – Genossenschaftsanteile?
Your monthly rent – Warmmiete for a general apartment is put together by fixed costs like:
the rent, the maintainance/running costs for commonly used parts of the building such as the lift, costs of waste disposal, building and property tax, building insurance, smoke detectors, etc.
and a pre-payment for some variable costs, which depend at least in part on each tenant's individual usage:
Following utilities and amenities are not included in your rent and pre-payments:
electricity
internet access, a landline phone, cable TV
the public broadcasting fee
This means, they must be registered, contracted, paid and also cancelled before moving out(!) separately by each tenant/household.
You can find the information here.
Information will follow soon
The broadcasting fee is a mandatory household charge, which serves to fund the public radio, TV and online broadcasting services. The payment happens per household, not per person. There are no exemptions or discounts for PhD students or scholarship holders. If you live in furnished short-term accommodation, find out whether your landlord or building administration already covers the fee and under which fee account number.
The broadcasting agency will find you a few weeks after your city registration. You will receive a letter with a registration form, asking you to either register a new fee account or name the existing registered household member and their fee account number.
Find more information here.
Find various forms here.
| | | | |
| --- | --- | --- | --- |
| der/die Mieter/in | tenant | die/die Vermieter/in | landlord/landlady |
| die Untermiete | subletting | die Wohngemeinschaft (WG) | flat share |
| die Kaltmiete | rent excluding service charges (e.g. heating)/net rent | die Warmmiete | rent including service charges/gross rent |
| die Kaution | deposit | die Genossenschaftsanteile | |
| die Wohnungssgeberbestätigung | home owner confirmation | das Bürgerbüro | citizens bureau |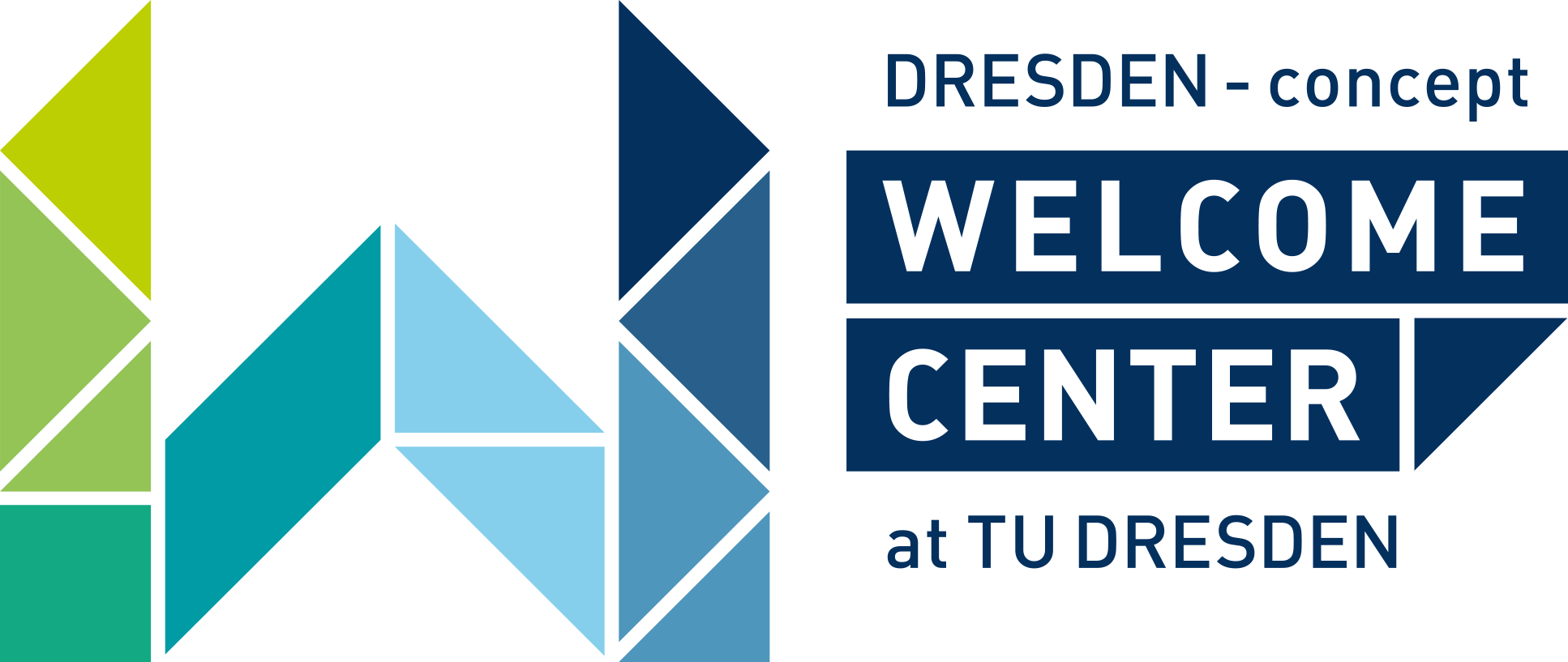 Where to find us
Address
Einsteinstraße 9
01069 Dresden
Bus stop TU Dresden (line 61)
Opening hours
Monday to Friday
10 a.m. till 3 p.m. (please make an appointment in advance)
Follow Us