Walking Tour of the Inner and Outer Neustadt
Event on

24.10.2020
Time from:

10:45 Uhr -

until:

16:00 Uhr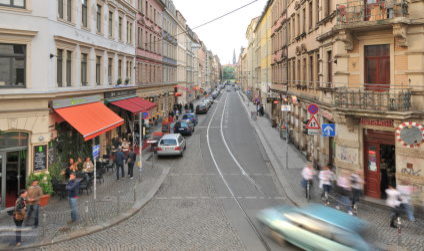 Thomas Klewe www.dresden.de
Dresden Neustadt: Centre for Artists, Students and Outsiders
– Guided Tour with Laura Park-
Lying on the river bank opposite the city centre, Dresden Neustadt has always attracted artists, misfits and all those who were in search of a freer way of life.
Miraculously, large parts of the Neustadt were spared from the Second World War destruction that devastated the Altstadt, but due to a lack of money and neglect during GDR times, this part of town, with its fascinating history and beautiful architecture was left to crumble away quietly over the years. The events of the peaceful revolution in 1989 took place just in time to save the buildings from the wrecking ball, allowing the Inner and Outer Neustadt to develop into two of Dresden's most attractive neighbourhoods.
We will begin our walk at Dresden's most famous statue, the Golden Horseman and continue through the streets of this specially designed Baroque city. We will pass through some influential periods in the city's history, including the Romantic Movement and the industrial age of the 19th century, before ending up in the buzzing student area with its bars, restaurants and street art.
During the tour, we will see the following sites: Japanisches Palais­  – Königstraße –­ Societätstheater – Dreikönigskirche – Albertplatz – Martin-Luther-Platz – (Pfund's Dairy )­– ­ Old Jewish Cemetery ­– Kunsthofpassage
Due to the new corona regulations in Saxony, where only a limited number of people can meet in the public, we had to change plans a little. Instead of heaving one big group, we will have two tours after each other in smaller groups:
First tour will meet 10.45 a.m. and have the tour until 1 p.m.
Second tour will meet 1.45 p.m. and have the tour until 4 p.m.
 Check the registration at the end of the page!

Order Tickets
Walking Tour 10.45 a.m. - 1 p.m.
Sold Out
Walking Tour 1.45 p.m. - 4 p.m.
Sold Out