Romeo and Juliet- a Ballet at the Semperoper
Event on

26.11.2022
Time from:

18:30 Uhr -

until:

22:10 Uhr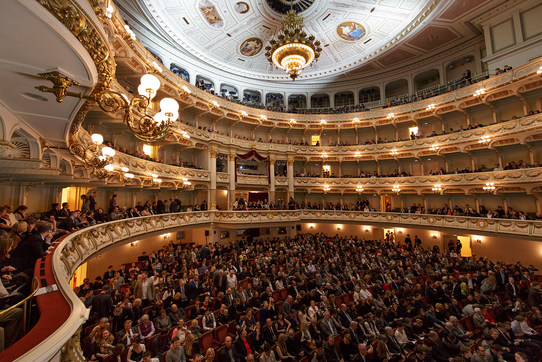 ©semperoper.de
It is one of the greatest love stories in Western literature. It tells of the love and fate of young Romeo and his Juliet, who cannot get along due to deep-seated hatred and old quarrels and can only be united in death. William Shakespeare's love drama has been reinterpreted countless times in theatre, opera and dance and adapted for film, often with current political updates and reflecting modern perspectives. Sergei Prokofiev's famous ballet music received the version performed today through the creation of Leonid Lavarovsky for the Kirov Ballet in St. Petersburg in 1940. »Romeo and Juliet« was performed in Dresden for the first time in 1955. In 2022, the British choreographer and associate choreographer of the Semperoper Ballet David Dawson will create his fourth full-length ballet with »Romeo and Juliet«. Dawson's vision of the play is a world full of contrasts, in which the story unfolds in all its tragedy and beauty with the means of dancing between order and chaos, tenderness and strength.
The seats we have reserved for us at the Semperopera are the best seats available. The price for our PhD's and Post-doc's is extremely discounted.
If this storyline and the implementation of this classical piece at the Semperoper in Dresden seems interesting to you, make sure to sign up and join us!
©kulturnews.de